Grindstone Base
Type
Block 
Category
Tool 
Durability
30
Stack Size
16
ID
grindstone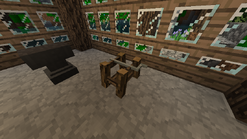 The grindstone base is the frame on top of which you put the Grindstone.
Right click the base with an empty hand a few times to get the stone rolling, and then right click with a damaged item.
Be careful, though: Repair too often, and the tool simply breaks.
Applicable Tool Types:
Grindstone Base
Shaped

2 sticks, 1 stone, 2 logs